The Real Estate Group Shows MilFam Love During Grand Illumination!
Posted by Gary Lundholm on Wednesday, November 23, 2016 at 2:56 PM
By Gary Lundholm / November 23, 2016
Comment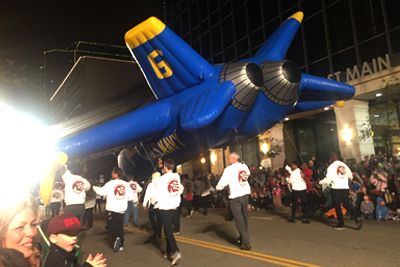 The Real Estate Group, serving the military community of Hampton Roads in Coastal Virginia had the honor of carrying the Blue Angels parade balloon through the streets of Norfolk, Virginia at the annual Grand Illumination Parade.
The Grand Illumination Parade is a holiday tradition in Hampton Roads. For over thirty years, families have gathered to line the parade route in the heart of Downtown Norfolk to cheer on the huge lineup of marching bands, intricate floats, community groups, and more recently special balloons.
Last year, the exceptional agents of the Real Estate Group were lucky enough to debut the Blue Angels balloon. With such a large military presence throughout the region, the support of the balloon was loud and proud- cheering echoed through the streets and all along the route, you knew a great balloon was coming because you could hear the cheers before you saw it.
The excitement of the balloon led to The Real Estate Group being the recipient of the very special "Balloonatics" award given by the organizers of the parade for the most spirited walkers and balloon. There was no doubt the balloon was special to the people of Hampton Roads and The Real Estate Group knew they would love to be a part of the parade for another year.
This year was another chance to show support and pride for the military families by walking the Blue Angels balloon again. The magic of the holidays was in full effect for this year's parade. An unseasonably warm and sunny day magically shifted into a chilly night full of sparkling lights, music, and holiday cheer. People bundled up, snacked on special holiday treats, and enjoyed the beauty of the city skyline being illuminated followed by the parade.
The Real Estate Group once again guided the jet balloon through the streets of Norfolk to the joy, cheers, and applause of all watching. It's a heartwarming feeling for all who serve and the agents to be a part of something so special to their community. TREG can't wait to continue the tradition next year!
Want to check out the event? CLICK HERE to visit The Real Estate Group's Facebook Page and watch the great video they shared from the event!