The Income Tax Deadline is Fast Approaching
Posted by Gary Lundholm on Friday, March 31, 2017 at 10:24 AM
By Gary Lundholm / March 31, 2017
Comment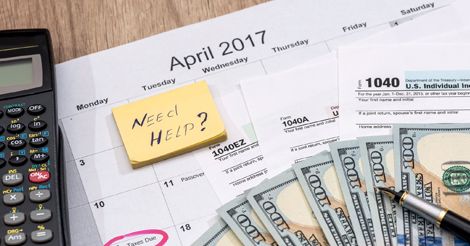 Typically, April 15 is the annual deadline for having your income tax completed and filed. However, that date isn't set in stone, so that it can change from year to year.
"Under a special rule, whenever a tax deadline falls on a Saturday, Sunday or a legal holiday, it's moved to the next business day," explains William Perez, a San Francisco-based tax professional. "That's April 18 in 2017. You have until October 16, 2017 if you file a request for an extension on or before that date."
That extension does give you more time to file your return. However, it does not give you more time to pay off any taxes you might owe. That April 18 date still stands as the day, you must send any owed taxes. Otherwise, you could face penalties.
Most large military bases around the world offer service members and their families free income tax filing assistance through the Volunteer Income Tax Assistance (VITA) program, sponsored by the IRS.
If you've never used the VITA program and still need to get your taxes filed, the IRS offers four things you need to know about free military tax assistance:
1. Armed Forces Tax Council: The Armed Forces Tax Council oversees the military tax programs offered worldwide. AFTC partners with the IRS to conduct outreach to military personnel and their families.
2. Volunteer tax sites: Military-based VITA sites staffed with IRS-trained volunteers provide free tax help and tax return preparation. Volunteers receive training on military tax issues, such as combat zone tax benefits, filing extensions and special benefits that apply to the Earned Income Tax Credit.
3. Joint returns: if you are married filing a joint return and wish to file electronically, both you and your spouse should be present to sign the required forms. If both cannot be present, you usually must bring a valid power of attorney form along with you. You may use IRS Form 2848, Power of Attorney and Declaration of Representative for this purpose.
There is a special exception to this rule if your spouse is in a combat zone. The exception allows a spouse to prepare and e-file a joint return with a written statement stating the other spouse is in a combat zone and unable to sign.
4. What to bring:
--Valid photo identification
--Social Security cards for you, your spouse and dependents, or a Social Security number verification letter issued by the Social Security Administration
--Birth dates for you, your spouse and dependents
--Wage and earning statements, such as Forms W-2, W-2G, and 1099-R
--Interest and dividend statements (Forms 1099)
--A copy of last year's federal and state tax returns, if available
--Checkbook for routing and account numbers for direct deposit of your tax refund
--Total amount paid for day care and day care provider's identifying number; typically an Employer Identification Number or Social Security number
--Other relevant information about income and expenses
The Armed Forces' Tax Guide has more helpful information for members of the military. You can download free publications from the IRS.gov website, or order them by calling 800-829-3676.
The IRS reports the best and fastest way to get your tax refund is to have it electronically deposited for free into your financial account. You can use it to deposit your refund into one, two or even three accounts.
Eight out of 10 taxpayers get their refunds by using Direct Deposit, and it's the same electronic transfer system used to deposit nearly 98 percent of all Social Security and Veterans Affairs benefits into millions of accounts.
Once you've filed your taxes and want to know when you'll receive your refund, don't forget to download the IRS app, IRS2Go. This app is available in both English and Spanish and provides features to help taxpayers check on the status of their tax refund, obtain tax records, find free tax preparation providers, and more.
iPhone and iTouch users can update or download the free IRS2Go application by visiting the iTunes App Store. Android users can visit Google Play to download the free IRS2Go app.
What were some tips you have for keeping track of your tax documents? Share with us in the comments! Thinking about using your tax refund towards a new house this spring? Start your search with us!