The Balloonatic Award - PCSmoves.com celebrates The Real Estate Group's win!
Posted by Gary Lundholm on Monday, January 18, 2016 at 4:29 PM
By Gary Lundholm / January 18, 2016
Comment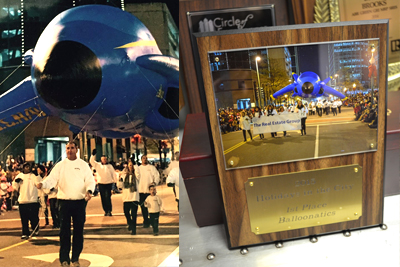 PCSmoves.com would like to congratulate The Real Estate Group on the recent announcement that they won the "Balloonatic Award" for the Grand Illumnation Parade. On December 10, we shared a network news article about the Hampton Roads brokerage and their participation in the Grand Illumination Parade in Norfolk, Virginia as they proudly walked the Blue Angels Jet Balloon through the city streets.
A huge military area, Hampton Roads encompasses seven cities in the coastal Virginia region. Every year thousands gather to watch the skyline of the port city as the holiday lights are turned on. Directly after the lights start twinkling, a parade winds its way from through downtown.
Awards are given every year for a few of the groups marching in the parade, but the Balloonatic Award is a special one that recognizes the most spirited group to walk a balloon.
The huge crowd, including many military families, were especially excited to see the Blue Angels Jet Balloon on it's inaugural voyage through the streets of Norfolk. The Real Estate Group was honored to walk the balloon and their excitement paid off!
The city sent their special events manager to a company business meeting last week to present the special award, which has definitely earned a place of honor on the wall. They have also been invited by the city to walk the popular balloon again this December. Congrats to The Real Estate Group!