Supporting Hurricane Harvey Relief Efforts
Posted by Gary Lundholm on Thursday, August 31, 2017 at 4:25 PM
By Gary Lundholm / August 31, 2017
Comment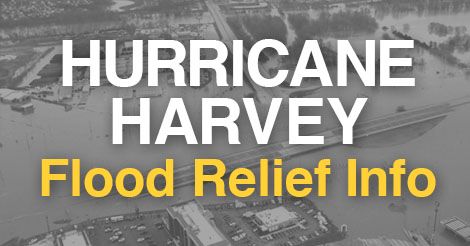 When Harvey made landfall in Texas on Friday, Aug. 24, it did so as a Category 4 hurricane, bringing with it catastrophic downpours of more than 11 trillion gallons of rain.
It's now known as the most powerful hurricane to hit Texas in more than 50 years, killing at least 17 people and forcing 30,000 people to flee to emergency shelters. For just southeast Texas and her residents so far, it's estimated the economic cost from Harvey will be $51-$75 billion.
Yesterday, Harvey made landfall again in Louisiana as a tropical storm, with more damage forthcoming.
Watching the news about the destruction can leave a person outside the area feeling helpless. The Real Estate Group has compiled a list of legitimate organizations, which are responding to Hurricane Harvey and providing relief. Many news stations have posted the same article, on how to stretch your Harvey donation dollars to help people across the country make sound donation decisions.
The American Red Cross
The Red Cross is working around the clock along the Gulf Coast, to help the tens of thousands of people whose lives have been devastated by Harvey.
Donations can be made through their website. $10 is the minimum online donation.
Donations can also be made over the phone, by calling 1-800-HELP-NOW.
The American National Red Cross is registered as a 501(c)(3) non-profit organization. Contributions to the American National Red Cross are tax-deductible to the extent permitted by law.
The Salvation Army
Salvation Army disaster teams from across the country are mobilizing and, even after disaster response efforts are over, The Salvation Army will remain in communities impacted by this terrible storm, supporting long-term disaster recovery efforts and providing ongoing assistance to those in need.
Donations can be made through their website. $25 is the minimum online donation.
To see how your donations are being put to use in the field, the organization provides disaster updates as well.
Samaritan's Purse International Relief
Samaritan's Purse is sending five disaster relief units to Texas, to help residents as they continue to struggle with rain, flooding, and destruction caused by Hurricane Harvey. Two of their disaster relief units are already there.
Donations can be made through their website.
Samaritan's Purse is a nondenominational evangelical Christian organization providing spiritual and physical aid to hurting people around the world.
Operation Blessing
Operation Blessing's U.S. Disaster Relief Team meet the most urgent needs of Hurricane Harvey victims including emergency food and supplies, safe water, debris removal, home repair, and more.
Donations can be made through their website.
One of the largest charities in America, Operation Blessing provides strategic relief in 39 countries on an ongoing basis through core programs such as disaster relief, health and medical care, hunger relief, vulnerable children and orphan care, safe water and community development.
Hurricane Harvey Relief Fund
After receiving an overwhelming number of inquiries from citizens and companies who want to help, Houston Mayor, Sylvester Turner, has established the Hurricane Harvey Relief Fund to accept tax-deductible donations for victims affected by the recent floods. The fund will be housed at the Greater Houston Community Foundation, a 501(c)(3) public charity.
Donations can be made through their website. $10 is the minimum online donation.
Houston Food Bank
The Houston Food Bank will provide food and supplies in the short term, and for many months to come, to residents in southeast Texas, affected by Harvey, who will struggle to rebuild their lives. The Food Bank will work closely with our network of partner agencies to ensure food is getting to those who need it most.
Donations can be made through their website. Every $1 donated provides 3 meals.
Houston SPCA
As Houston's first and largest animal protection organization, they offer the region's most comprehensive, highly qualified care and services to animals in need. Their mission is to promote commitment to and respect for all animals and free them from suffering, abuse and exploitation, and proudly place all healthy animals into loving homes, with adoption partners or in reputable sanctuaries.
The Houston SPCA has been assisting with water rescues since the flooding began. They also have teams on standby to help pet owners staying in Red Cross emergency shelters.
Donations can be made through their website.
The Houston SPCA is the lead nonprofit agency for animal-related disaster rescue, relief and resources in the region.
PCSMoves sends our thoughts to the victims of Hurricane Harvey. Our hearts are with all of you at this time.
Did we leave any hard-working organizations out of our list? Share with us in the comments! Thinking about buying your new home this summer? Start your search with us!