Supporting California Wildfire Relief Efforts
Posted by Gary Lundholm on Friday, October 20, 2017 at 4:04 PM
By Gary Lundholm / October 20, 2017
Comment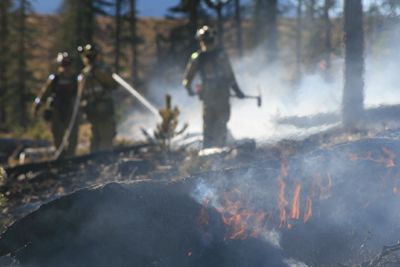 In keeping with our previous posts about hurricane relief efforts, we want to talk about relief efforts with the Northern California wildfires.
The fires started Sunday, Oct. 8, leaving 41 people dead and making 20,000 residents take mandatory evacuations. An estimated 5,700 homes and structures have been destroyed. As Madison Park of CNN describes the fires, "It's unclear what caused fires to form suddenly around the same time in one night, blazing through California's wine country while many residents were caught unaware as they headed to bed."
The Associated Press reported 17 large fires were still burning across the northern part of the state, with more than 10,000 firefighters attacking the flames using air tankers, helicopters and more than 1,000 fire engines.
Watching the news about the destruction can leave people feeling helpless. PCSMoves.com has compiled a list of legitimate organizations, which are responding to the wildfires and providing relief.
California Community Foundation
Grants from the Wildfire Relief Fund are supporting those who were displaced or lost housing, belongings and/or employment, or suffered physical or mental health problems. The grants will also help to rebuild homes; provide case management services, basic needs assistance, mental health services and financial assistance. Burn victims will be assisted with follow-up medical care and supplies; respiratory equipment and information will be provided to people with lung disease; education to homeowners about green rebuilding, and providing disaster preparedness information.
To make a secure, tax-deductible donation online, click here. The minimum online donation is $15.
American Federation of Teachers Disaster Relief Fund (AFT DRF)
Our brothers and sisters need our help in California after wildfires have devastated many communities in the Napa Valley and surrounding counties. Several AFT member families have lost their homes to these fires, and countless members were evacuated. To donate online, click here.
Bay Area Firefighters and Families
As firefighters risk their lives working to protect civilians, many have learned that their homes were consumed as well.
Many of these brave heroes are still on the fire lines and have not been able to even return home to assess the damage or comfort their families. Some of those firefighters lost family members, loved ones and cherished pets, in addition to losing all of their belongings.
100 percent of funds raised will go directly to the firefighters who've lost everything. Donations can be made by texting "FFSTRONG" to 41444, or donate online.
International Brotherhood of Electrical Workers (IBEW) 1245 Wildfire Relief Fund
At least 20 members of IBEW Local 1245 have lost their homes and all of their belongings in the devastating series of wildfires that continue to rage. We know of at least five more who are currently evacuated/displaced, unsure as to what the status of their homes may be. They're still receiving reports from members and expect these numbers to increase.
Donations can be made online through the Go Fund Me site.
North Bay Labor Council
The North Bay and Napa/Solano Labor Councils have joined forces to help their members who have been impacted by the recent fires.
Donations can be made through the Labor Councils' website.The minimum online donation is $5.
California Fire Relief
Donate to the Direct Impact Fund, in partnership with GoFundMe. Your tax-deductible donation will go directly to support charities and individuals with verified campaigns on GoFundMe.
Donations can be made through the Go Fund Me site.
What is your favorite charity or organization to support? Share with us in the comments! Thinking about buying your new home this fall? Start your search with us!