Solar Eclipse Viewing Tips For Monday
Posted by Gary Lundholm on Friday, August 18, 2017 at 4:34 PM
By Gary Lundholm / August 18, 2017
Comment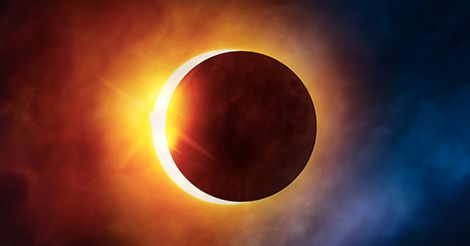 Are you in a place when you can watch the solar eclipse on Monday, Aug. 21, 2017? That's the day a total solar eclipse will be visible, within a band, across the entire contiguous United States. The event will begin on the Oregon coast as a partial eclipse, at 9:06 AM PDT (12:06 PM EST), ending as a partial eclipse in Charleston, SC, at 4:06 PM EST.
A solar eclipse occurs when the moon passes between the Earth and the sun, totally or partially obscuring the image of the sun for people on Earth. When it's a total solar eclipse, all direct sunlight will be blocked, turning day into darkness.
Be sure to protect your eyes when viewing the eclipse. The only time it's safe to view the eclipse without protection is when the sun is completely covered by the moon, for about two minutes or so. Otherwise, you can damage your eyes staring at the sun, even the slimmest sliver of it.
NASA has issued a recommendation to let people know to use eclipse glasses with "ISO 12312-2" printed on them and have been printed by the following companies:
If you have number 14 welder's glasses, sold at most hardware stores, those can also be used to safely view the eclipse.
Some cities along the path of the solar eclipse are expecting an increase in traffic and are trying to prepare their citizens for that and the possible "unknowns," related to this event. Depending on location and the forecasted shadow of the moon, some people may be turning Monday into a once-in-a-lifetime road trip to see the eclipse.
For example, Greenville Online has reported, "[Greenville, SC] County emergency officials expect anywhere from 400,000 to 500,000 people to drive into Greenville County to catch the solar eclipse on Monday afternoon, potentially carrying traffic headaches into Wednesday. The state of South Carolina is expecting anywhere from 500,000 to 2 million visitors, according to state officials."
To celebrate this rare occasion, Krispy Kreme will be changing their original glaze to chocolate, for that Monday.
For those who just can't wait until Monday, customers can stop by participating shops during "Hot Light" hours tomorrow and Sunday, Aug. 20, for an early taste of the chocolate glazed doughnuts. Click here to find your nearest Krispy Kreme.
The last time a total solar eclipse was visible across the entire contiguous United States was June 8, 1918. The next, longest eclipse will be June 25, 2522.
Where will you be when the eclipse happens? Share with us in the comments! Thinking about looking for a new home because of a PCS move? Start your search with us!