Recognizing the Navy in Norfolk, VA and the National Guard
Posted by Gary Lundholm on Friday, December 8, 2017 at 3:26 PM
By Gary Lundholm / December 8, 2017
Comment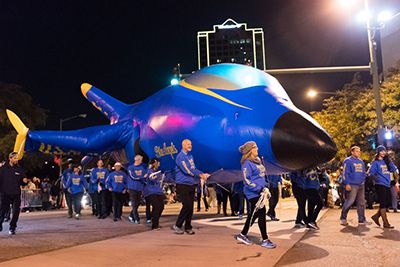 Norfolk, VA held its 33rd annual "Grand Illumination Parade" on Saturday, Nov. 18. The illumination of the Downtown Norfolk skyline kicked off the festivities as Downtown Norfolk and Olde Towne Portsmouth celebrated the holidays as a community. Downtown Norfolk was enlivened by thousands of people filling the streets to experience the festive beginning of the holiday season, dazzled by spectacular floats, energetic marching bands, giant balloons, lively dancers, and even Santa himself.
The theme of the parade this year was, "From Sea to Shining Sea," acknowledging it as an official Norfolk Naval Station Centennial Event. The nautical theme was well represented. Capt. Rich McDaniel, Commanding Officer of Naval Station Norfolk, was this year's Grand Marshal of the parade.
The Real Estate Group, located in Hampton Roads, VA and part of PCSMoves.com, was a part of the parade again this year, by walking the Blue Angels balloon. The love for the military community was alive and well with all the bundled up families cheering, clapping, and waving from the sidewalks as the giant blue jet was expertly guided by our very own agents, staff members and their family members.
In case you'd like to watch the rebroadcast of the Grand Illumination Parade, it will be airing Saturday, Dec. 9, at 8 PM EST, on WTVZ. See behind the scenes footage, interviews, candid moments, and the energy of the crowd and festive atmosphere of Downtown.
If you want to watch the parade, you can view it on Cox Cable in Hampton Roads, channel 2 or high def channel 1002. Over regular, non-cable television, you can watch it on channel 33. If you're a Verizon customer, you can watch it on channel 11 or high definition channel 511. While you wait to watch the parade, check out the teaser video.
Other military news to note is Wednesday, Dec. 13 marks the 381st birthday of the National Guard of the United States. "…in 1636, the first militia regiments in North America were organized in Massachusetts. Based upon an order of the Massachusetts Bay Colony's General Court, the colony's militia was organized into three permanent regiments to better defend the colony."
Today, the National Guard is part of the United States Armed Forces, in a reserves capacity, composed of military members from each state and the territories of Guam, the Virgin Islands, Puerto Rico, and the District of Columbia.
The descendants of those first regiments share the distinction of being the oldest units in the U.S. military: the 181st Infantry, the 182nd Infantry, the 101st Field Artillery, and the 101st Engineer Battalion of the Massachusetts Army National Guard.
Do you have a favorite branch of the military? Share with us in the comments! Thinking about buying your new home this winter? Start your search with us!