Recognizing Purple Heart Day and The U.S. Coast Guard's Birthday
Posted by Gary Lundholm on Tuesday, July 25, 2017 at 4:36 PM
By Gary Lundholm / July 25, 2017
Comment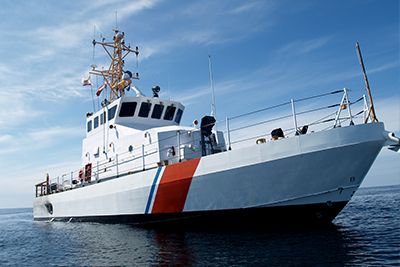 On Friday, Aug. 4, the United States Coast Guard celebrates 227 years of honor, respect and devotion to duty. As the nation's premier maritime law enforcement community, Coast Guard personnel serve to save lives, protect the environment and defend the homeland.
As of 2014, the Coast Guard had over 36,000 men and women on active duty, 7,350 reservists, 29,620 auxiliarists, and 7,064 full-time civilian employees. The U.S. Coast Guard by itself is the world's 12th largest naval force.
During times of peace, our Coast Guard operates under the U.S. Department of Homeland Security. The U.S. President can transfer it to the U.S. Department of the Navy at any time, or by the U.S. Congress during times of war. This has happened twice, in 1917 during World War I, and in 1941 during World War II.
Many cities have acknowledged the contributions and services provided by the Coast Guard men and women assigned to their cities. The Coast Guard has, in turn, recognized these cities as official "Coast Guard Cities," showing their appreciation for the cities' efforts to extend so many considerations to the Coast Guard family and their dependents.
To date, 16 cities have been designated by Congress as Coast Guard Cities. Among them are Elizabeth City, NC and Portsmouth, VA, both in regions served by PCSMoves.com. Elizabeth City was designated on May 29, 2015, and Portsmouth on Nov. 17, 2009.
Some Coast Guard birthday events taking place this week, in regions served by PCSMoves:
On Friday, Aug. 4, country music singer, Shane Owens, will perform at Base Base Elizabeth City. Check the Daily Advance for more information.
On Saturday, Aug. 5 at 6 PM, the Guardians Big Band will perform at Fort Griswold in Groton, CT. Check the U.S. Coast Guard Band calendar for more information.
On Saturday, Aug. 5 at 10 AM, the U.S. Coast Guard Car Show will be held, rain or shine, at the Coast Guard Base, 4000 Coast Guard Blvd., in Portsmouth, VA. Check the flyer for more information.
Purple Heart Day is recognized on Monday, Aug. 7. It commemorates the day when General George Washington created the Purple Heart Medal in 1782, a military decoration awarded to those wounded or killed while serving in the United States Armed Forces. Known as the Badge of Military Merit, it was awarded to three Revolutionary soldiers the following year. An estimated 1.8 million Purple Hearts have been awarded since then.
In addition to being awarded to those who fight wars overseas, the Purple Heart is also given to military personnel who display bravery and valor as prisoners of war and while fighting certain types of domestic terrorists.
The day also encourages people to pay their respects to fallen soldiers and to listen to the stories of soldiers and veterans, while thanking them for their service to the nation.
Some Purple Heart Day events taking place this week, in regions served by PCSMoves:
Do you know of anyone in the Coast Guard? Share with us in the comments! Needing to look for a new home because of a PCS move? Start your search with us!