Recognizing K9 Veterans
Posted by Gary Lundholm on Friday, March 10, 2017 at 2:40 PM
By Gary Lundholm / March 10, 2017
Comment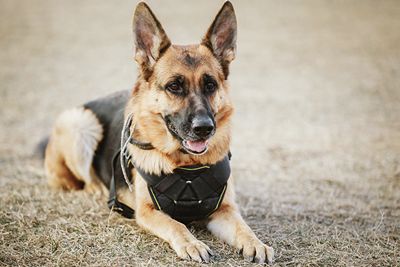 March 13 is National K9 Veterans Day, a day when all military dogs are commemorated. Proclaiming March 13 as National K9 Veterans' Day is meant to honor all military and working dogs for their service and sacrifice for our nation.
The United States K9 Corps was created on March 13, 1942. Since then, dogs officially became the part of military service.
Border patrol K9s, customs K9s, police K9s, Secret Service K9s, airport service K9s and FBI K9s work daily to save and protect Americans and our country. They continue to serve on land and sea every day. The dogs are trained to provide numerous functions, including search, rescue, explosives detection, scout, patrol, and enemy subdue.
Joe White of Jacksonville, FL, a Vietnam War veteran, K9 handler and trainer, created K9 Veterans Day. Joe passed away on October 24, 2009, but since then, his wife continued the effort to get national recognition for this holiday.
The Kennel Club of Fort Atkinson, WI is currently raising funds for a K9 Veterans Memorial, inspired by the memory of Marine Lance Corporal Terrance Daniel Beck and his K9 partner, Seato. Beck joined the Marines in 1966, attended basic training at Camp Pendleton, and was paired with Seato for K9 Training at Camp Lejeune. Beck and Seato made the ultimate sacrifice for their country, on Dec. 10, 1967.
Perhaps one of the best-known "dog of war" might be Rin Tin Tin, a male German Shepherd that was an international star in motion pictures, rescued by an American soldier named Lee Duncan.
The area Duncan was searching in had been subjected to bombs and artillery, but he found a severely damaged kennel. At one time, it had supplied the Imperial German Army with German Shepherd dogs. However, Duncan did find survivors in the kennel: a starving mother and her litter of five nursing puppies, their eyes still shut because they were less than a week old.
Duncan rescued the dogs and brought them back to his unit. He found homes for the mother and four of the pups, and kept one male for himself, naming him Rin Tin Tin, or Rinty for short.
Rin Tin Tin was an immediate box-office success and went on to appear in 27 Hollywood films, gaining worldwide fame. Even movie appearances by his grandson, Rin Tin Tin III, helped promote the military use of dogs in World War II.
As the Quartermaster Corps began training dogs for the Army's K-9 Corps, more than 30 breeds were accepted. Later, with more experience, the list was narrowed to five: German Shepherds, Belgian Sheep Dogs, Doberman Pinschers, Farm Collies, and Giant Schnauzers. Rejected breeds included Great Danes, difficult to train because of their size, and hunting dogs because animal scents occupied their attention. Alaskan Malamutes and Huskies were still being trained as sled dogs for Arctic duty.
The vast majority of U.S. military working dogs in recent times are German and Dutch shepherds and Belgian Malinois: breeds chosen because they are very aggressive, smart, loyal and athletic.
For specialized roles, detector dogs in particular, other breeds are used. Retrievers (Labrador, Golden or Chesapeake Bay) are the preferred breeds for One Odor Detector dogs.
Recently, Naval Station Norfolk, in the heart of Hampton Roads and the home to PCSMoves, added a new working dog to their roster. Puskos, a 15-pound Jagdterrier, trained to sniff out drugs. He is the only small dog assigned to Naval Station Norfolk and expected to be certified to search for narcotics by the end of March.
Puskos' small stature will allow him to fit into tight spaces aboard ships and submarines that would be difficult for a much larger German Shepherd or Belgian Malinois. Another advantage of a small dog is that Puskos will be easier to carry down steep ship stairwells.
Not every dog is cut out for military service, but plenty of dogs have PCS moved with their military families. Do you have a military dog by proxy? Share something about your dog with us in the comments!