Preparing for Hurricane Season 2017
Posted by Gary Lundholm on Friday, July 7, 2017 at 11:50 PM
By Gary Lundholm / July 7, 2017
Comment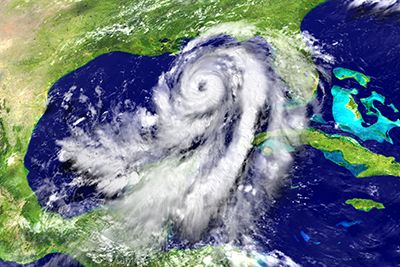 The Atlantic hurricane season is June 1-November 30. Now is the time to start planning for possible storms. If you wait until a hurricane is coming, you might only have a day or two to get ready. Many disasters allow no time for people to gather even the most necessities, which is why planning is essential, especially if this is your first time living in an area prone to hurricanes.
Know what your spouse's command expects to do.
If your active-duty Navy spouse is on sea-duty, don't expect him or her to remain at home with you during the storm. Your spouse may have to go underway before the storm even arrives. Navy Fleet Forces Command relies on the weather forecast to know where ships can safely avoid a storm and whether it is better for ships to stay in port or head out to sea. If this is your situation, this is the time to make sure you have a local, "deployment buddy," with whom you can ride the storm out so you don't have to do it alone.
Brock Vergakis, a reporter for The Virginian-Pilot, explains it like this: "Sending Navy ships out to sea is an expensive, time-consuming process. However, the Fleet Weather Center will recommend doing so when sustained winds of at least 57 mph are forecast. That's the threshold for when aircraft and ships in port are in danger…To safely send aircraft inland and ships out to sea, they need to get under way before winds reach 40 mph."
Have emergency supplies in place at home, at work and in the car.
A basic emergency supply kit could include the following recommended items:
Water: 1 gallon of water per person per day, for at least 3 days, for drinking and sanitation
Food: at least a 3-day supply of non-perishable food, per person
Battery-powered or hand crank radio
NOAA Weather Radio with tone alert and extra batteries for both
Flashlight and extra batteries
First aid kit
Whistle to signal for help
Dust mask to help filter contaminated air
Plastic sheeting and duct tape to shelter-in-place
Moist towelettes, garbage bags and plastic ties for personal sanitation
Wrench or pliers to turn off utilities
Manual can opener for food
Local maps
Cell phone with chargers, inverter or solar charger
Cash is also a good option. ATMs, banks and point-of-sale machines may not work during emergencies and unable to handle credit card transactions during power outages.
If you have a car, keep a full tank of gas in it. Gas stations may be closed during emergencies and unable to pump gas during power outages.
Pets also need to be taken into consideration during a hurricane. A disaster can cause anxiety for them. Having a blanket or favorite toy handy might help your pet feel more comfortable.
Be prepared with a few sealed gallons of water, a sealed container of pet food and treats, and any medications for at least five days.
Make sure cats and dogs have a carrier or cage that will hold them comfortably, as well as a sturdy leash. And make sure your pet is also wearing a collar and up-to-date ID tag. Microchipping your pet could help you reunite. Unlike a collar and tag, these implants cannot be lost and are easy for a clinic or shelter to find.
In a time of fear, even the most loyal and obedient pets may instinctively run away from the terror, and you could be forced to evacuate and leave them behind. They might be rescued by someone or wind up in a shelter, but possibly miles away from home.
The Federal Emergency Management Agency (FEMA) has a more of an in-depth emergency supply list online.
Create an emergency communication plan with your family before a hurricane.
FEMA and Ready.gov offers a selection of printable emergency contact forms, so you know how in advance your family will get and share information if cell phones, land lines or the Internet doesn't work.
If you have to evacuate while your spouse is underway, try to contact your command Ombudsman, so they know where you end up going.
Know your local community's evacuation plan and evacuation routes.
In some circumstances, local officials may decide hazards are serious enough to require mandatory evacuations. In others, evacuations are advised to avoid situations that are believed to be potentially dangerous.
There are designated hurricane evacuation routes for Virginia and coastal North Carolina. If needed, the Virginia governor can order a lane reversal of the eastbound lanes on I-64 to help evacuate Hampton Roads.
Most of the evacuation routes are marked with circular blue signs that read, "Evacuation Routes." Travel details will be posted on permanent and portable message boards along the evacuation routes and will also be communicated by local media. Plan to take one car per family to reduce congestion and delay.
For more information about hurricane preparedness, the Virginia Department of Emergency Management has a guide can be downloaded from their website.
What is your best hurricane preparedness tip, now that the season is right around the corner? Share with us in the comments! Thinking about buying your new home this summer? Start your search with us!