PCSMoves Cares! Our Military Kids, Inc.
Posted by Gary Lundholm on Friday, March 3, 2017 at 2:41 PM
By Gary Lundholm / March 3, 2017
Comment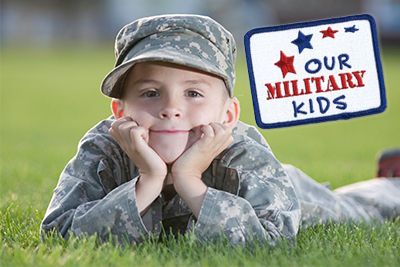 Unlike active duty military members, their children don't sign up to become a part of the military. Much like the military spouses, the children of our military members go with the flow, no matter where home ends up being.
But what happens when a military parent is deployed or wounded? A little bit of routine or something extracurricular can be a welcome addition when life gives a family a good shake.
Our Military Kids, Inc. (OMK), a nonprofit organization, supports children, ages 5-12th grade, of deployed National Guard and Reserve service members and children of wounded warriors from all service branches. OMK empowers children with sports, arts and enrichment during parent deployment or recovery, by grants to pay for participation in activities that help them cope with stress and anxiety while their parents are recovering or absent.
Military children can be just as much at risk as their parents. Nearly 2 million children have been affected by wartime deployments since 9/11; one out of three is at high risk for behavioral and psychological issues, such as anxiety and depression.
Research shows that activity counteracts stress. As a result, the children experience higher self-esteem and a chance to achieve. Additionally, the grants allow entire families the opportunity to rest, recover, and improve morale. Children's mental health and academic performance improve. Respondents also note improvements in family well-being, service member morale, and veteran recovery time.
Since it's founding in 2004, OMK has given out nearly $22 million, through 56,000+ grants, to military children in all U.S. states and territories. In early 2005, they started small, with a pilot program focused on a National Guard unit from Winchester, VA. The pilot program was extremely successful, and they expanded to help all deployed Reserve and National Guard families living throughout Virginia, Maryland and the District of Columbia.
In 2006, OMK expanded its program once again, this time to include children of both active and reserve/guard wounded and fallen warriors, whose families were struggling to deal with financial and emotional hardships. Today, it is a national organization. With the help of generous donors and volunteers, they have empowered more than 44,000 children.
If you or someone you know is need of assistance from OMK, check out their website at http://ourmilitarykids.org/. Applicants can fill out the necessary forms online. If you would like to request additional information about Our Military Kids, please reach out to our office at 703-734-6654 or [email protected].