PCSmoves Cares: Boot Campaign
Posted by Gary Lundholm on Monday, June 27, 2016 at 3:38 PM
By Gary Lundholm / June 27, 2016
Comment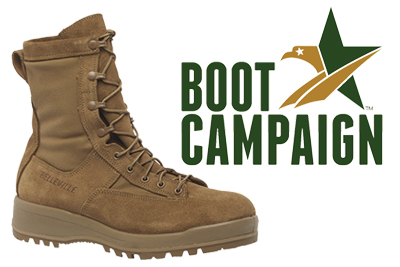 We recently asked our PCS community to take a moment to tell us about military minded organizations that are important to them.
Andrea Curtis of United Country Premier Properties in the Fort Hood area of Texas directed us to one of her favorite organizations, Boot Campaign.
BootCampaign.org is a fundraising organization that works tirelessly to give back to the military and veteran community using the three-pronged approach of awareness, patriotism, and assistance.
Starting as a photo campaign in 2009 to promote patriotism, Boot Campaign built enormous momentum to become the 501(c)(3) charitable organization that it is today. Five Texas women turned a photo wearing combat boots into a national movement that gives over two million dollars a year back to the military community.
Their site sums it up best with this explanation of what they do and why:
"Boot Campaign is dedicated to promoting patriotism for America and our military community; raising awareness of the unique challenges service members face during and post-service; and providing assistance to military personnel, past and present, and their families. Retail sales of combat boots, apparel and mission-focused merchandise, general public donations and corporate sponsorships fund programs that support military families. These efforts extend to all generations of military personnel who endure significant physical, emotional and circumstantial hardships resulting from their service and sacrifice."
The good work this organization does is highlighted by the complete financial transparency they have easy access to through their site. To find out more about news, events, stories, and the different ways you can get involved to help, please visit BootCampaign.org today!