PCS Move To Norfolk Virginia? Here Are Some Things To Know!
Posted by PCSmoves Team on Friday, September 2, 2022 at 1:34 PM
By PCSmoves Team / September 2, 2022
Comment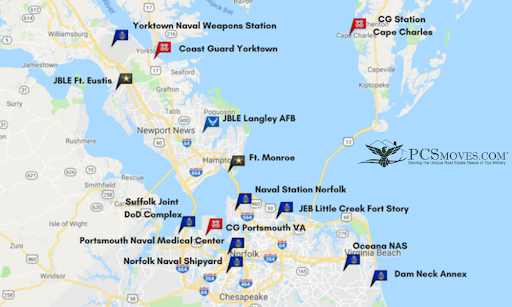 PCS Move To Norfolk, Virginia?
Here Are Some Things To Know!
A PCS transfer to the 'Norfolk' area can mean a lot of things. For one, the military community is expansive here. You actually may not be stationed in Norfolk itself. There are military installations from Yorktown to Northeastern North Carolina, and everywhere in between! All branches are represented here. You may be happy to live by the ocean, and have numerous military amenities to enjoy, or you may be happy with the large military community and camaraderie it provides. We are providing some 'need to know' information about the area that we hope you will find helpful well before you begin packing.
Location
Military
Naval Station Norfolk is the largest Navy base in the world. The base can host up to 75 ships along its piers, and has room for 130 aircraft. It supports the readiness of the entire Atlantic Fleet. The local military presence in greater Hampton Roads is the largest concentration of military personnel outside the Pentagon. Here is a list of the installations near Norfolk, the first link is general information, and the HOMES link following it has listings of homes for sale today in proximity to each base noted. We hope you find it helpful as you begin researching your new 'home'.
Living in Norfolk
Historical charm is highlighted in the Norfolk area home styles, although the city's vibrant downtown area also provides a mix of both Victorian era homes along cobblestone streets and the modern aesthetics of luxury loft condominium homes. Granby Street is a hub offering restaurants, shopping, and entertainment venues. This includes college students from nearby Tidewater Community College and Old Dominion University.
The Larchmont neighborhood of Norfolk features classic bungalow homes that consistently draw military families to the area. If you're looking at an assignment to Naval Station Norfolk, NSA Hampton Roads, or even JFC Suffolk (which is just a quick drive through the midtown tunnel), this popular Norfolk district is an ideal choice. Other popular Norfolk neighborhoods include Ocean View/East Beach along the Chesapeake Bay beaches and Historic Ghent with its funky, artsy vibe.
We suggest that before deciding where you want to live, get familiar with the local bridge/tunnel system because it's a huge factor for determining commute times. Traffic can regularly back up at bridges and tunnels in this coastal region.
Things to Do
Our miles upon miles of Atlantic Ocean and Chesapeake Bay shoreline provides much to do each season. You can easily enjoy all types of water activity - swimming, fishing, boating, kayaking, SUP, sunbathing, and boardwalk/pier visits.
Off the beach, you will find myriad choices for family outings. The Norfolk Zoo, Botanical Garden, Virginia Aquarium, Children's Museum, Colonial Williamsburg, and Busch Gardens/Water Country USA all make great ways to spend a day close to home. Hint: any of these places would make a terrific 'day off' with the kids on a house hunting trip to Norfolk before your move. The area also has many parks and nature trails for outdoor lovers.
We love living here and know that you will too. Contact us and we can connect you with a REALTOR® who can listen to your needs and show you homes that are a perfect fit for your lifestyle. Welcome to Norfolk!