November is National Military Family Appreciation Month
Posted by Gary Lundholm on Friday, November 3, 2017 at 3:57 PM
By Gary Lundholm / November 3, 2017
Comment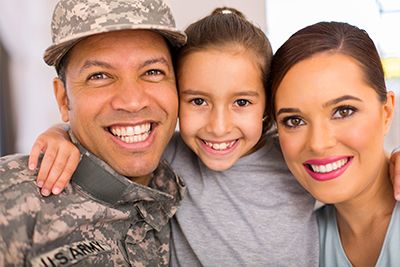 The Armed Services YMCA established military Family Appreciation Month in 1993 and recognizes it each November.
"Military Family Appreciation Month is observed every November to recognize and honor Army families for their contributions and sacrifices. The Army recognizes that the selfless dedication and commitment of Army families directly contributes to the readiness of our Soldiers. Families are the force behind the force."
We know part of the reason that areas like Hampton Roads, home of PCSMoves.com, as well as Montgomery, AL, Bethesda, MD, Fayetteville, NC, and others like them, thrive is not just because of the economic boost the military brings. It's because of the collective strength of its military residents.
Throughout the month, community leaders, businesses and garrisons team up to recognize Army families through a variety of activities such as family fun nights, fun runs, discounts at Morale, Welfare and Recreation (MWR) facilities, sporting events, and special recognitions during community activities. Active, Guard and Reserve leaders are being joined by Department of Defense organizations such as the Army Air Force Exchange Service and the Defense Commissary Agency to conduct activities and events to express their appreciation and thanks to our military families.
Click here to see a list of discounts on goods, services and dining for military families, as compiled by Military.com. Remember, most establishments will need to see a military ID or proof of service to honor the discounts. Sign up for the Military Deals and Discounts Newsletter to get even more discounts and information on how military families can save big.
Or, if there's someone you want to show your appreciation to, Amy Bushatz has a short list of ways you can show your thanks for other military families. What Amy's list comes down to are different ways military spouses can support each other, by sticking together and looking out for each other.
1. Volunteer your time. What this woman needs is something more than grocery shopping without the kids. What she needs is time alone in a spa. I may not be able to make her husband come home, but I can have her tribe over for a playdate while she takes a break.
2. Share their passion. Some of the most amazing military spouses I know spend gobs of time volunteering with organizations or programs they think are important. Spend some time volunteering next to them as a way of showing that you care, too.
3. Leave an anonymous care package at the door. Ding-dong-ditch is extra fun when you can leave something amazing behind. Hit up TJ-Maxx and buy some supplies for the perfect bath (salts, scrubs, bubbles) or put together a movie night in a basket complete with a fun flick, popcorn and snacky movie candy. Does your friend live far away?
4. Listen. Take the time to find out what she (or he!) needs. Maybe the lawn looks great but caring for it is just about the last straw. Maybe the fur babies need some extra love while he is at work. Maybe all she needs is someone to talk to about what is really going on. Just listen.
Are there any military family members to whom you show appreciation? Share with us in the comments! Thinking about looking for a new home because of a PCS move? Start your search with us!