New Year's Resolutions for Military Families
Posted by Gary Lundholm on Wednesday, December 28, 2016 at 2:50 PM
By Gary Lundholm / December 28, 2016
Comment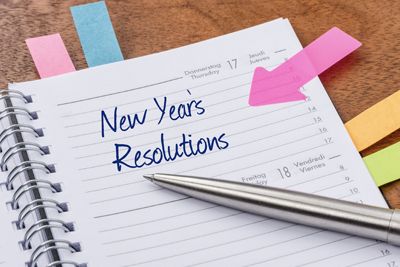 Resolutions are just the hopes we have for a coming year, a mindfulness exercise to improve areas of our life. We've put a special MilFam spin on some of the most popular resolutions over the years to give you some inspiration as you plan, PCS, and balance your crazy military life!
Stay Fit and Healthy (Mentally)
Who knows how many years this has topped the charts of New Year's resolutions, but it is especially important for Military families. And while everyone is all hung up on beach bodies and eating clean, we think everyone could benefit from focusing a little on mental and emotional fitness.
Life can be exceptionally challenging for military families, but there are plenty of resources, outlets, and programs available to help give you the tools to deal in a more positive way. Also, consider volunteering your time to help others stay healthier and happier. We always get what we give, and the military isn't considered a family for nothing.
Lose Weight (For Moving)
We know how it works when you get PCS orders. We've even written about getting organized before a relocation. But real talk: most people don't have the time or energy to add another thing to their plates when planning a PCS. So use these cold winter months and start organizing, selling stuff online, or preparing for a yard sale when the season hits, and you'll be ten steps ahead and even lighter before your next move.
Spend More Time with Family & Friends
This isn't special to the military, but something that everyone could stand to remember. Say yes to opportunities to make connections with people and use opportunities to visit family when they arise. A good foundation of support can celebrate with you during the good times and hold you up when the times get tough.
Learn Something New
If you're new to a duty station, or even just haven't found your tribe yet, make sure you get out and get involved. Sign up for classes to learn something new and find others who share your possible new interest. Even if you're busy every day with the family, make sure to carve out some time for you. You can find anything from jewelry making to dog training to get out and learn, and maybe even turn your new knowledge into a source of cash for something else you want to try. On the flip side, if you're great at something, teach your skill to others!
Travel More
Don't laugh and stop reading. Seriously. While the day to day grind of moving, finding a new home, setting up a new place, and adjusting to life away from family and friends is enough to make you want to crawl inside and not come out, you have to stay positive.
Relocating can give you the opportunity to see things some people only dream about. It's easy to find out what's around you and set out to explore. Don't let your time pass at your current or future duty station without taking in the sites. Also, don't be afraid to use the time traveling between duty station to visit friends, family, National Parks, or the biggest ball of twine in the country. Get out and see things when you can and make all the memories you can handle!
Any other recommendations for great New Year's resolutions with a military spin? Let us know in the comments!
Hope everyone has a safe New Year celebrating, and a healthy and happy 2017. See you next year!