MilSpouse Reading Recommendations for Fall
Posted by Gary Lundholm on Wednesday, October 12, 2016 at 3:06 PM
By Gary Lundholm / October 12, 2016
Comment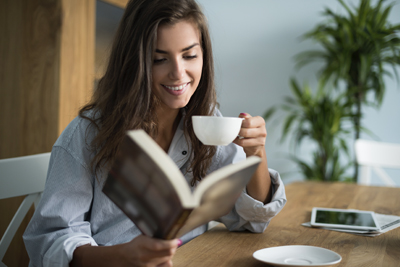 Fall is the perfect time to look for a good book to read on cool evenings. Whether you are a lover of real books or an e-Reader, these books pop up again and again on military spouse recommendation lists to read. From fiction to relationship advice, this list has something for anyone and is geared to the military spouses who hold it down at the home front. Check any of these great books out and if you have a recommendation, leave us a comment!
The 5 Love Languages Military Edition: The Secret to Love That Lasts
By Gary Chapman and Jocelyn Green
The 5 Love Languages is a famous book for understanding the different ways that people express love. This edition gears it towards the military. If you've never read this book, do yourself, and your spouse, a favor and grab a copy. Open up communication by understanding the language your significant other speaks!
Military Spouse Journey: Discover the Possibilities & Live Your Dreams
By Kathie Hightower and Holly Scherer
Craft the best life possible and overcome the challenges that military spouses face in life and their careers. Military Spouse Journey helps readers create their own version of success. Encouraging stories shared by experiences spouses, this book gives personal stories, antidotes, and ideas for building the future you want.
Chicken Soup for the Military Wife's Soul: Stories to Touch the Heart and Rekindle the Spirit
This is another series that makes fans of even the most skeptical or discerning reader. True stories from military spouses across the world and generations. You will need some tissues, but you will finish each story feeling like you have not only gained a new perspective but with the sense that there is community amongst those who serve no matter where, no matter when.
No Man's War
By Angela Ricketts
Angela Ricketts powerful book about being an Army wife is so well done, it's hard to remember that it is the truth. Beyond the images of Army wives from popular TV shows, Angela shows the emotional truth, laying bare her experiences for better and for worse as she navigated the military spouse life.
Stories Around The Table: Laughter, Wisdom, And Strength In Military Life
By Terri Barnes
From finances to love, PCSing to deployment, these stories, told by some well known military spouse community, give helpful, real insight into military life and the struggles, sacrifices, and successes of the military family. Beautiful, funny, and sometimes tear-inducing, the stories in this collection will make you appreciate the community so many find themselves a part of.
You Know When The Men Are Gone
By Siobhan Fallon
This book of short stories approaches all the issues that military families deal with on any given day in the life of those who serve and those who remain. This "dazzling" fiction turns intense everyday experiences into beautifully told stories that anyone who has served (or stayed at home waiting) can identify with.