Lose the Stuff to PCS with Less Stress
Posted by Gary Lundholm on Monday, February 29, 2016 at 4:24 PM
By Gary Lundholm / February 29, 2016
Comment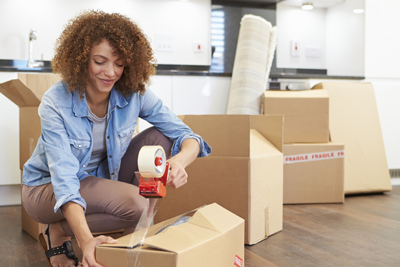 PCSing is stressful. Getting orders, making decisions about how you will move and who will do it, packing, organizing- the list goes on and on. Then you arrive at a new duty station to turn around and unpack, make decisions, put a home together, and get back to "normal".
It is nothing short of overwhelming, and a big reason I think military spouses and kids are essentially superheroes.
If you know that PCSing is in your future, do yourself a favor. Think about cutting some weight in the possessions department. This can be done at anytime, doesn't cost anything, and can make your next PCS move just slightly less stressful.
Humans love stuff. We decorate, collect, and hold on to all sorts of meaningful (and sometimes silly) things. I am in no way saying that now is the time to sell everything and live like even more of a nomad; I'm just offering some ways to lighten the load and simplify a little before the next set of orders come down.
1. Take a mental inventory.
Start today, start thinking about what you need and use on a daily basis. Think about the stuff you love that makes you happy. Now think about all the other stuff you own. Could you get rid of some things? Chances are the answer is yes, so make up your mind to start organizing and getting rid of things before you are faced with a move.
2. Make money off your stuff.
There are a million ways to make money off of your things. Yard sales, Craigslist, eBay, even local Facebook groups dedicated to virtual sales. If you have toys or clothes that your kids have outgrown, consider consignment or selling them yourself. There are even apps now that help you list and sell items locally. Check them out and you might be surprised how much you could profit from clearing some space.
3. Give back by donating.
If you have a place that you like to donate to, consider setting up some boxes around the house and filling them with stuff you don't need and making a big donation run. Even worn out towels and bedding can be donated to a local animal shelter, so even if the stuff you want to get rid of isn't in the best shape, chances are there is a place that needs it.
Most places offer receipts that can be useful at tax time to help you remember (and prove) that you made a contribution. Use that receipt to list items sold so you can reference it later. Some organizations will even pick up your donations.
4. Start at the source.
Even the most hesitant pack rat amongst us has things that could go before you get PCS orders. Once you've cleared some things out, start making sorting, selling, or donating a part of your daily life. It doesn't have to be complicated, but it can make a move less stressful when it comes to logistics.
Consider big purchases carefully and perhaps make a rule where you donate something if you bring something new in. This is particularly useful with clothes and kitchen stuff.
If you want to help lower the stress of a move, start with clearing out the stuff that doesn't serve a purpose anymore. You just might find that clearing the clutter not only makes your next move easier but makes you feel good too. What are your best clutter-busting strategies? Let us know in the comments!