How To Find Military-Friendly Colleges
Posted by Gary Lundholm on Friday, March 17, 2017 at 10:36 AM
By Gary Lundholm / March 17, 2017
Comment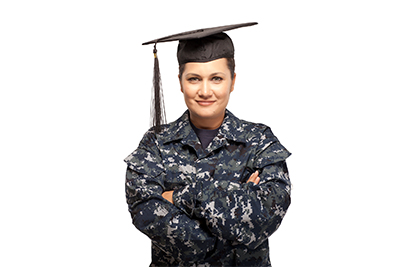 Military service doesn't have to stop anyone from furthering an education. Military life can be nomadic if you choose it to be, but thanks to the Internet, military members around the world don't have to pause their education when they move to a new base.
According to the U.S. Department of Defense, 1.3 million men and women served in the military in 2016. A recent report by the U.S. Census Bureau also reveals there are 21.8 million veterans of the armed forces.
Many factors go into finding the right military-friendly college for Veterans, active-duty service members, Reservists, Guardsmen, spouses and dependents of disabled or deceased veterans in any of the five branches of the U.S. Armed Forces.
Many colleges and universities promote being military friendly, despite offering little to no benefits beyond the government funded support programs, such as the Post 9/11 GI Bill or MyCAA program.
Online degree programs offer an ideal academic pathway for many of today's military students. The self-paced curriculum of most online courses is conducive for active-duty personnel and reservists who must balance their schoolwork with service-related commitments. This flexible format is also helpful for Armed Forces veterans who are seeking a college education to transition from the military into civilian life.
And like their brick-and-mortar counterparts, online colleges and universities provide services and resources aimed at military and veteran students. These include personal counseling, academic advisement and career planning, all delivered within a convenient virtual setting.
The most important place to start a search for a military friendly college should be your base or post education office. Do you know where that office is? Do you know what kind of valuable services they can offer? There, you'll find education counselors from different schools. It's not uncommon for some of the schools to be local to your region, but it's also possible to find schools with national reputations for being military friendly colleges.
Whether you're planning on going to school for your Associate's, Bachelor's or Master's degrees, meeting with a counselor at the education office is the right first step to take.
If any of your coworkers are going back to school, ask them where they're going and whether the school is military friendly. You'll want to make sure that instructors are accommodating if you're deployed, especially if you need to leave unexpectedly.
Even if local colleges near your base or post don't have a presence at your education office, they could have reputations for being military friendly colleges. These schools will likely have a large military student population, which means they'll be used to working with the Department of Veterans Affairs or an individual service's Tuition Assistance program. This helps cut down on the amount of time spent making sure that your paperwork was submitted properly. After all, you're supposed to be in class, not chasing down paperwork!
If you're not attending a school near a military base or post, that doesn't mean you'll have a hard time finding military friendly colleges. Some larger schools and even small ones may have an administrative office that's dedicated to helping veterans get a degree. These offices will often delay tuition deadlines to accommodate for any lags when using the GI Bill. Some may even allow students to buy books on an interest-free credit card, so students don't need to wait for the money from their book stipend to be deposited in their account. While these may seem like small conveniences, they all add up when dealing with military friendly colleges.
The Military Friendly Colleges list, which can be found at MilitaryBenefits.info, is based on colleges meeting at least 3 of the criteria requirements listed below and offering 100 percent online degrees.
The list isn't a ranking, but rather is just a list of colleges and universities that meet the criteria requirements.
Criteria (minimum of 3)
Provides tuition discounts or scholarships for veterans, active-duty military, military spouses and/or dependents
Waives the application fee and/or books for veterans, active-duty military, military spouses and/or dependents
Website contains military and/or veterans specific information
Change of Order friendly policy for active-duty or reserve military service members
College Level Examinations Program (CLEP) acceptance
Accepts Veterans Retraining Assistance Program (VRAP)
Accepts American Council on Education (ACE) credit for military training and experience by collaborating with the Department of Defense
Provides military branch specific support
Participates in these programs:

School has veterans and active duty specialized counselors
DANTES external
Military Spouse Career Advancement Accounts (MyCAA) Program
Montgomery GI Bill – Active Duty (MGIB-AD)
Montgomery GI Bill – Selected Reserve (MGIB-SR)
Reserve Educational Assistance Program (REAP)
Service members Opportunity Colleges Consortium member (SOC)
The Post-9/11 GI Bill
VA Approved – Participant of Principles of Excellence Program
Veterans Educational Assistance Program (VEAP)
Veterans Retraining Assistance Program
Yellow Ribbon Schools Program
Have you taken to the Internet to start your college career? What school are you attending? Share something about your classes with us in the comments!