Give Yourself the Gift of a Sane Holiday Season
Posted by Gary Lundholm on Sunday, December 18, 2016 at 2:52 PM
By Gary Lundholm / December 18, 2016
Comment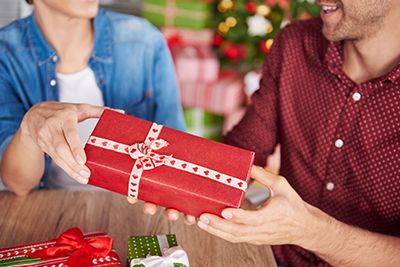 The holidays have the tendency to be all about excess and celebration. We're hard-wired to do more- spend more, eat more, push ourselves well outside of our routines. It's completely normal, but it still manages to drive us crazy! Combine the usual stress with the extra challenges that military families face, and you're talking about the kind of stress that turns jolly elves into certified Scrooges.
Let's all take a deep breath and remember these tips for a sane(ish) holiday season.
1. Embrace traditions, but don't be afraid to tweak them.
Most of us have an idea of what we want to experience during the holiday season. There are unique family traditions and things that you ALWAYS do, right? Sometimes being a military family means that you can't be home with the rest of the family or maybe you are stationed somewhere that doesn't stock the one particular thing you need for a recipe you cherish. There is no such thing as a perfect holiday season, and the real happiness and contentment come from making the best out of good enough. Don't drive yourself to nervous breakdown town over things that are out of your control. Tweak the recipe. Facetime into the family get together back home and try to enjoy where you are and what you can do.
2. Let go of perfection.
When the holiday cards start rolling in, I love to display the precious family photo cards of friends and families. But I also remember something a photographer friend told me. To get that one perfect picture, they probably took one hundred not so good pictures. The moral of the story is to not take perfection so seriously. It's not even real. It's one second of time and some help from editing software. Maybe perfect families do exist, and there's no harm in trying for the perfect family portrait, or a great family meal, or an impressive tree, but they aren't near as memorable as the messy, ordinary life moments that you will treasure for years to come.
3. Find your reason to celebrate and don't lose sight of it.
Gratefulness can transform people and experiences. In the rush of buy, buy, buy, it's easy to forget how lucky we are, even if we're stationed at a place we don't love. Use the wind down of the year to focus on what you are truly grateful for, what you can't wait to experience in the coming year, and use those warm fuzzy feelings to wrap your family and friends in all the love you can. All the stuff of the season is temporary, but finding your holiday spirit, embracing it and making it a part of your daily routine in the hectic rush of the holidays is a great way to help stay sane.
What do you do to keep sane during the most wonderful (and stressful!) time of year? What resources do you lean on to help power through and enjoy? Let us know in the comments!