Get Ready For Virginia's Sales Tax Holiday
Posted by Gary Lundholm on Friday, July 21, 2017 at 7:53 PM
By Gary Lundholm / July 21, 2017
Comment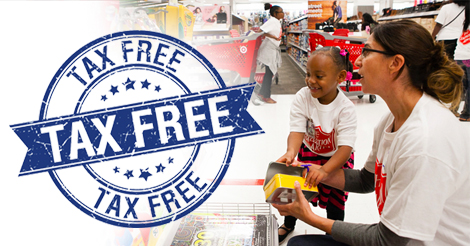 If you live in Virginia, home of PCSMoves.com, or even close enough to shop inside its borders, get ready for the Virginia Sales Tax Holiday, from Aug. 4-6, 2017. During that weekend, you can buy qualifying school supplies, clothing, footwear, hurricane and emergency preparedness items, and even Energy Star™ and WaterSense™ products, all without paying the Virginia state sales tax.
The three-day break from Virginia sales tax starts the first Friday in August at 12:01 AM, and ends the following Sunday at 11:59 PM.
Currently, Virginia's state sales tax is 5.3 percent, so depending on what you need to buy, the savings can add up.
What items are eligible?
School supplies, clothing, and footwear
Qualified school supplies - $20 or less per item
Qualified clothing and footwear - $100 or less per item
Hurricane and emergency preparedness products
Portable generators - $1,000 or less per item
Gas-powered chainsaws - $350 or less per item
Chainsaw accessories - $60 or less per item
Other specified hurricane preparedness items - $60 or less per item
Energy Star™ and WaterSense™ products
Qualifying Energy Star™ or WaterSense™ products, purchased for noncommercial home or personal use - $2,500 or less per item
Many stores are also expected to have special back-to-school sales on eligible items, in conjunction with the sales tax holiday. The following are all good stores for tax-free weekend sales and special back to school tax holiday promotions:
Even if you've finished school, you can always take advantage of the holiday to refresh your wardrobe or purchase some supplies for your home office.
For other states served by PCSMoves.com, the state sales tax-free weekend are as follows:
Alabama's state tax holiday is held annually on the third full weekend of July.
Florida state officials voted against having a state sales tax holiday.
Maryland's sales tax holiday was in February.
North Carolina repealed their sales tax holidays earlier this year.
Rhode Island doesn't have a sales tax holiday scheduled in 2017.
Washington, DC repealed their sales tax holidays in 2010.
Washington State doesn't have a sales tax holiday scheduled in 2017.
For other states not listed here, check TaxAdmin.org for more information.
School will be starting soon! What are your kids' favorite new school supplies to pick up? Share with us in the comments! Thinking about buying your new home this summer? Start your search with us!