Filing Taxes When a Service Member Is Deployed
Posted by Gary Lundholm on Monday, April 11, 2016 at 4:18 PM
By Gary Lundholm / April 11, 2016
Comment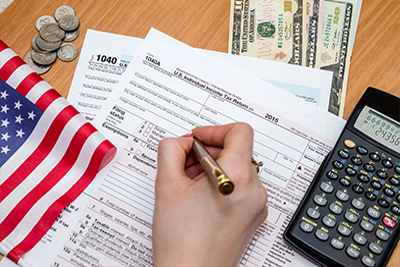 Uncle Sam expects you to file your taxes even if you or your service member is deployed. But it's easier than you think to file these days. The Internal Revenue Service recognizes that service members and their families often face special circumstances and has made the annual-tax-filing event easier for you.
Get started
If you are a service member or filing taxes on behalf of a service member, here are a few important items to know before you start the process:
File returns in your permanent home state. If you are stationed somewhere other than your permanent home address, you will still pay state taxes to your home state, in most cases. For example, if your legal state of residency is Kansas, but you're stationed in California, you will file state taxes in Kansas, if applicable.
Access your tax statement online. You can go to myPay to view and print your military W-2 form before it is mailed to you. You can log in and use your CAC or your personal identification number to access your military W-2.
Ensure you have a power of attorney if someone is filing on your behalf. If someone will be filing your return on your behalf ensure they attach a copy of the power of attorney to the tax return using Internal Revenue Service Form 2848, Power of Attorney and Declaration of Representative.
Find answers to your questions with the Internal Revenue Service Armed Forces' Tax Guide.
Military spouses have special considerations, as well:
File a state tax return for the state where you are employed, in most cases, if you work outside your home state. However, the Military Spouse Residency Relief Act changed the rules so that spouses do not have to pay income tax to the current state where they are employed if they live with their service member in that state because of military orders. Visit the Internal Revenue Service for more specific information and to see if you quality for this tax relief.
For more info, including links to resources about combat zone and hazardous duty deadline extensions and resources for getting your taxes done, you can find the complete article at militaryonesource.mil or by clicking HERE.