Deployment Projects: The Book Club
Posted by Gary Lundholm on Friday, July 14, 2017 at 11:43 PM
By Gary Lundholm / July 14, 2017
Comment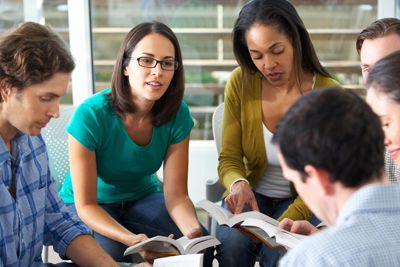 You've probably heard it several times before: if your spouse is leaving on a deployment, it's best to keep yourself busy once he or she leaves. Julie, the wife of a National Guard soldier, and writer of the Soldier's Wife, Crazy Life blog, suggests, "Plan some regular get-togethers with friends. Have book club at your house every Friday night…Having these regular get-togethers can make the deployment go by so much faster."
So choose a deployment project for the next 6-9 months. How about starting a book club? You'll have some company, have some grown-up conversation and you won't feel like your brain is turning to mush while you listen to the Disney channel in the background of your life. RealSimple.com offers a checklist on how to put together your book club, but we've added in some additional advice for starting the club in your military community.
1. Decide on the tone and theme of the club.
Decide whether you would prefer to focus on one genre or have an Amazon free-for-all, and set the tone, too: a scholarly meeting of the minds, a reason for a get-together, or something in-between.
Decide whether or not the meetings will be for adults only or if kids will be welcome. While time away from children can be a good thing, all the kids still have a deployed parent. Spending some time with other kids in the same situation might be good for them.
2. Spread the word.
Alert your friends, family, coworkers, and even the families in your spouse's command. You might even want to include friends and family members that are out of the area, as well as friends from previous duty stations. When it comes time to discuss the books, people can remote in either by FaceTime, Skype or the regular ol'phone.
If you're new to the area, see if your community or housing complex has a Facebook page. You might be able to post a message there about your new book club. The local library, bookstore or coffee shop might have community bulletin boards on which you can hang a flyer. Your goal should be between 5-15 people, so everyone gets a chance to speak.
Be sure to mention your expectations and start collecting email addresses.
3. Figure out the best time for everyone to meet and pick a convenient location.
Will the time of the gathering warrant a meal (hello, potluck!), snack or just refreshments?
Lots of groups take turns at one another's homes. If you want to remove the pressure to entertain, quiet cafes and restaurants are an easy option. If you want to get creative, you can vary the meeting place and cuisine based on the setting of the book.
4. Go over the rules.
You'll want to give people an idea of what to expect: how often you'll meet (once a month is typical) and how long the meetings will be (about two hours does the trick).
5. Finalize how the books and moderators will be chosen.
As the club's creator, it makes sense for you to pick the first book and to lead the first meeting. Depending on the seriousness level of the group, you may want to do a bit of research on the author, time period, etc.
At the end of each evening, ask for a volunteer to pick the next book and to lead it's meeting. Moving forward, every member should have a chance to speak up, with the group reserving veto power in case too many have already read the book or don't consider it appropriate.
6. Consider starting a Facebook page to keep track of the books and meetings.
Facebook is free. You'll save time by eliminating the need for keeping up with email addresses and it will come in handy when you're recruiting new members. It's a courtesy for the moderator of each meeting to send everyone a reminder message a few days before the meeting.
If you need help in picking books, here are a few lists of possibilities to get you started.
The great thing about some of these books, because of their popularity after being featured on club lists, is they typically have discussion questions included. You can follow those questions or create your own. You may be able to find discussion questions online for other books as well.
No matter what books your club chooses, this is a chance to get out of your reading rut. Mix it up with a combination of fiction and non-fiction books, both new and classics. Or how about some popcorn-type fun, with a book written by your favorite celebrity?
What is your favorite book to read? Share with us in the comments! Thinking about buying your new home this summer? You'll need an extra room to turn into your personal library! Start your search with us!