Deployment Projects: Cooking Through An Entire Cookbook
Posted by Gary Lundholm on Friday, December 15, 2017 at 3:24 PM
By Gary Lundholm / December 15, 2017
Comment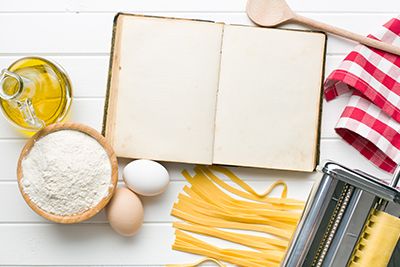 We've talked about the importance of having a hobby as a way to keep yourself busy during your spouse's deployment. This week, we're talking about another deployment project: cooking your way through an entire cookbook. Click here to read our last blog post about scanning all of your old photos.
Recipes are easy to come by these days. They're in books, magazines, on Facebook, there are entire websites devoted to recipes, and you can get tried and true recipes from family members. But to make this project work, you've got to put yourself on a recipe diet: pick out one cookbook and stick with it, only cooking dishes that come from one book until you've made your way through its entirety.
If the idea sounds familiar to you, it's how Julie Powell started a blog in 2002. Needing something to break the monotony of her own life, Julie began cooking her way through Julia Child's book, Mastering The Art of French Cooking. The blog's successes lead it to become the 2009 film, Julie and Julia, starring Meryl Streep and Amy Adams.
The biggest choice you have to make, in starting this project, is picking your cookbook. Do you want a cookbook with pictures of the completed dishes? Do you have a favorite chef or type of food?
If you're struggling for the right cookbook for you, Epicurious has a list of the 10 essential cookbooks every home cook should own.
The Joy of Cooking, 75th Anniversary Edition

Mastering the Art of French Cooking

by Julia Child

Baking

by Dorie Greenspan

The Taste of Country Cooking

by Edna Lewis

Plenty: Vibrant Vegetable Recipes from London's Ottolenghi

by Yotam Ottolenghi

Essentials of Classic Italian Cooking

by Marcella Hazan

Momofuku

by David Chang and Peter Meehan

The Zuni Café Cookbook

by Judy Rodgers

Mexico: One Plate At A Time Mexico: One Plate At A Time

by Rick Bayless

Yankee Church Supper Cookbook
Once you have your book, sit down and read through it, just like it's a regular book. It will help you decide if you want to start at the beginning to cook through it or if you want to jump back and forth through it.
Keep this project manageable by challenging yourself to make 2-3 new recipes from the book each week. Julie's goal was 524 recipes in 365 days.
Unlike Julia, you don't have to blog to make the project meaningful to you. Grab a pen and make notes right in the cookbook as you make each recipe. Your thoughts on each dish are what's important. Make a note of the date you make each dish, any substitutions you make and what you thought of it once it's been prepared.
No matter what your starting skill level is, as long as you can read a recipe, you can make that dish! Once you've cooked your way through an entire book, you'll have honed a very basic skill everyone needs.
What is your favorite dish to make? Share with us in the comments! Thinking about buying your new home this fall, with a bigger kitchen? Start your search with us!