Deployment Projects: Cake Decorating
Posted by Gary Lundholm on Friday, September 1, 2017 at 4:23 PM
By Gary Lundholm / September 1, 2017
Comment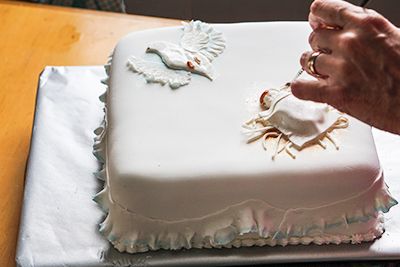 In July, we talked about the importance of getting together with your friends and having a hobby as a way to keep yourself busy during your spouse's deployment. This week, we're talking about another deployment project: cake decorating.
With this new hobby, you'll rejuvenate your personal life and you'll learn a new skill. It's also a hobby you can take up that is completely outside the military lifestyle, giving you a chance to rest that side of your brain so the creative side can take over.
Cake decorating classes can be perfect for refining your skills or for helping you get started. And like with the book club, you'll get some company, some grown-up conversation,
Michael's, the arts and crafts store, has Wilton Method of Cake Decorating classes. You'll be able to master beginning baking and buttercream basics, to advanced cake decorating. Michael's has 2 different types of classes to choose: 4 in-depth sessions or 1 session that focuses on specific cake decorating techniques.
Joann, the fabric and crafts store, also has Wilton food crafting classes, in both beginner and intermediate levels. You can learn how to create professional-looking cakes and sweet treats with buttercream techniques, including creating flowers and working with fondant and gum paste.
Both Michael's and Joann sell a variety of Wilton cake-decorating products, making it convenient to pick up supplies in case you want to practice at home.
If corporate classes aren't your thing, you can always do an online search for cake decorating classes by zip code. You may be able to find bakeries or shops in your area.
Who knows…if you discover you've got an undiscovered flair for fondant, you might be able to turn it into a new career! At the very least, once word gets around about your new skill, you may get requests to start making cakes for special events within your circle of friends!
What is your favorite kind of dessert to make? Share with us in the comments! Thinking about buying your new home this summer? You know you're going to need a bigger kitchen! Start your search with us!