Celebrating The Month of the Military Child
Posted by Gary Lundholm on Friday, April 7, 2017 at 10:23 AM
By Gary Lundholm / April 7, 2017
Comment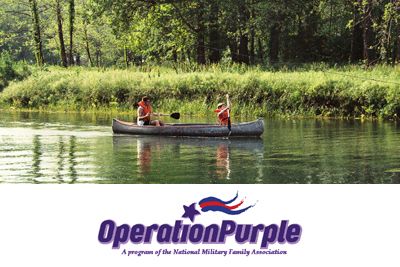 Children around the world are born into their parents' military communities. The month of April provides an opportunity to recognize and honor the service of our youngest heroes: military children. Established by former Secretary of Defense Caspar Weinberger in 1986, the designation of April as the Month of the Military Child acknowledges the significant role military youth play in our communities.
This awareness month was established to highlight the important role children play in the Armed Forces community. There are approximately 2 million military children, ranging in ages from newborn to 18 years old; 1.3 million of those military children are school-aged.
Julie Provost, author of the "Solider's Wife Crazy Life" blog, reflects that her children, "have been able to meet more people and see more things than they would have," because of her husband's military career.
To help families spend quality time together, reconnecting after a deployment, Operation Purple Family Retreats bring families from all uniformed services, including National Guard and Reserves, to beautiful outdoor locations. Sponsored by The National Military Family Association, other military families are also there to share the experience, and it's the right environment to meet and bond with others in the same phase of military life.
These retreats take place YMCA Camp Surf in San Diego, CA, during Mother's Day weekend, where military family ties are strengthened and memories are made to last a lifetime. Families spend their nights in rustic cabins along the beach, enjoy delicious meals and participate in a wide variety of fun and exciting camp programs, from surfing to archery and everything in between.
However, for every happy military child waiting for a parent to return home from a long, successful deployment, a military child needs to talk about the injuries or trauma a parent sustained while deployed.
The Association has a coping program specifically for children of active duty members gearing up for, or returning from, deployments or even finding new normal after injuries. When military children, ages 9-15 years of age, participate in OPC, they get to thrive in an environment with fully trained counselors and camp staff, experienced in helping children adapt and overcome the stressors of military life.
OPC is operated from Camp Sandy Cove, an overnight camp for boys and girls located in High View, WV. This summer camp offers horseback riding, circus and trapeze, archery, canoeing, sports, mountainboarding, skateboarding, drama, dance, tennis, digital photography and video editing, swimming, guitar, self-defense, gymnastics, chess, crafts, air riflery, outdoor cooking, and more.
For families needing to rediscover fun together after an injury, there is also Operation Purple Healing Adventures. This free three-day experience combines family-focused activities with outdoor exploration, like hiking and canoeing to encourage each family's growth on their new journey post-injury. The Association welcomes wounded, ill, injured, medically separated, or medically retired military families to reconnect at Healing Adventures. Families take part in uniquely designed resiliency building activities developed by the American Red Cross, and build memories through fun family oriented activities like hiking, canoeing, and even building bird houses.
Estes Park Center is the Healing Adventures home. Located between Rocky Mountain National Park and the town of Estes Park, CO, visitors enjoy hiking trails that lead directly into Rocky Mountain National Park, on the 860-acre property where elk, deer and other wildlife frequent the landscape.
Since its start in 2004, Operation Purple Camp has served nearly 60,000 military kids. Purple was chosen to represent the camps as a mix of Army green, Coast Guard blue, Air Force blue, Marine Corps red, and Navy blue.
The National Child Traumatic Stress Network (NCTSN) has a variety of handouts to help guide parents and guardians talk with their children while guiding them through injuries, traumatic grief or upheaval.
For more information about the National Military Family Association and their Operation Purple Camps, please visit their website, at http://www.militaryfamily.org/kids-operation-purple/camps/. For NCTSN and how to find assistance if you need it, please visit their website, at http://www.nctsn.org/