Celebrating The Month of the Military Caregiver
Posted by Gary Lundholm on Friday, May 19, 2017 at 12:07 AM
By Gary Lundholm / May 19, 2017
Comment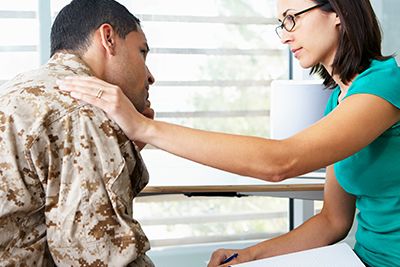 May is the month of the Military Caregiver. The Elizabeth Dole Foundation describes this role as, "Every day, a Military Caregiver serves our nation. A wife, a husband, a parent, a friend, or even a child is helping their Wounded Warrior accomplish everyday tasks, something many of us take for granted." Sometimes, these caregivers are called Hidden Heroes.
And because of all the work these Heroes do, they deserve to be celebrated and reminded of their worth to both their Wounded Warrior and to society as a whole. Kathy Stalnaker, of West Virginia, summed up her experiences caring for her husband, "I've lost a lot of family members who do not understand PTSD. That has been the hardest, as they forced me to choose between them or my husband. I have no regrets. I have peace."
Since 2001, the United States has sent more than 2.5 million men and women to Iraq and Afghanistan, and more than 50,000 have been wounded. Beyond those visible injuries, nearly one-third of returning service members have a mental health condition or experienced a traumatic brain injury.
Some of the responsibilities these caregivers take on range from providing emotional support to wounded veterans, to tasks in the home, and can be both physical and emotional in their nature. It's estimated the United States currently has more than one million Military Caregivers. By comparison, the Hampton Roads Chamber of Commerce reports that Hampton Roads, the home of PCSMoves.com, is home to approximately 150,000 active duty military and civilian personnel.
In 2015, The Rosalyn Carter Institute for Caregiving signature military caregiver program expanded to Virginia, North Carolina and Los Angeles, CA. With this latest expansion, Operation Family Caregiver (OFC) continues to pursue its strategy of serving families in states with the highest concentration of service members and veterans. It is the only program like it serving military families.
Last fall, Virginia Beach, VA joined the campaign as one of the first cities to sign on as a Hidden Heroes City, one of the campaign's key national initiatives designed to develop military caregiver resources at a local level. Each Hidden Heroes City pledges to help identify local military caregivers and organize community resources to offer them vital support.
OFC is a proven, evidence-based program that provides support to the families of newly returning service members and veterans. It is free, confidential, and tailored to each family.
The Wounded Warrior Project (WWP) is also ready to assist family members and caregivers adjusting to life with a wounded veteran for their lifetime. The Independence Program is a team effort, bringing together the warrior, family or caregiver, treatment team, and community support professionals to establish goals and a personalized plan.
Being a caregiver is not easy. It's not a role most people plan to take on. They may not think of themselves as a "caregiver" of their military spouse, child, or friend. They are just doing what needs to be done for their family, because someone needs to do it, and they are the one who can do it right now. They're focused on caring for their family or friend.
Carolyn Tolliver-Lee, a Military Caregiver in Kansas, said, "Being a caregiver means advocating for my disabled veteran to ensure he receives optimum care while residing in a long-term care facility; keeping him connected to family; raising his standard of well-being; encouraging him to be connected to the local community and promoting his sense of belonging with others through church."
Many spouses, siblings, and parents are thrust into the unexpected role of caregiver when their loved one comes home. Hidden Heroes reminds and encourages military caregivers to connect within their communities and online, with their peers, to share experiences and advice. They also offer online educational courses to help caregivers through their challenges.
"Don't be afraid to reach out for assistance or guidance. Tell your story to the right individuals and you will receive recognition and direction to programs that fit your needs. Participate in webinars, group meetings, and online chats to ease the burden of feeling alone. Love yourself first and take some time for yourself. Remember not to be so hard on yourself because you can only do the best you can for your veteran and your family," said Angela Brooks of Illinois, of her experiences as a Caregiver.
OFC provides "coaches" who teach military families the skills they need to overcome unforeseen challenges and cope more effectively with problems they never imagined. The program can be provided in person or via Skype.
For more information about OFC or Hidden Heroes, and how to find assistance if you need it, please visit their websites, at www.operationfamilycaregiver.org/ or hiddenheroes.org/. For information on WWP, check out their website at www.woundedwarriorproject.org/.
Thinking about looking for a new home because of a PCS move? Start your search with us!