Celebrate Military Spouse Appreciation Day Today
Posted by Gary Lundholm on Friday, May 12, 2017 at 12:08 AM
By Gary Lundholm / May 12, 2017
Comment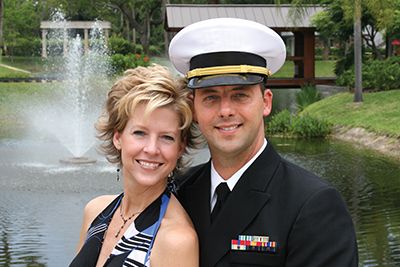 In the United States, Military Spouse Appreciation Day is today, May 12, 2017, the Friday before Mother's Day. President Ronald Reagan declared it in 1984 to recognize the importance of spouse commitment to the well-being of military members.
Military spouses arrange their lives around the needs and requirements of the military, give up months or years of time with their loved ones, and even face the loss of their deployed husband or wife in service to their country.
The day was first observed on May 23, 1984. However, it was Caspar Weinberger, the former U.S. Secretary of Defense, who standardized the date by declaring the Friday before Mother's Day as Military Spouse Day. The President of the United States marks this occasion each year with a proclamation and a speech to honor military spouses.
In honor of Military Spouse Appreciation Day, Sheryl Sandberg, Chief Operating Officer of Facebook, will be visiting Fort Hood in Killean, TX today at the Palmer Theater, to talk about building resilience as individuals and communities and working together to create an equal world. She will be talking about her experience overcoming adversity and talk about how to build strength to overcome the challenges, and how to help others do the same.
Sandberg wrote the book, Lean In, and founded LeanIn.Org, both to support the advancement of women. In partnership with the Department of Defense, Sandberg's foundation has launched Lean In Circles, small peer groups across all military branches and in 150 countries. Sheryl will talk about building a more diverse workforce and military and will officially kick off Fort Hood's Lean In Circle program. Admission will be free.
Corvias Military Living, at Fort Meade in Maryland, will also honor military spouses. As a way to show their appreciation, Corvias will give away flowers to plant in their residents' gardens. All Corvias residents are invited to visit their Community Center on today, 9 AM-12 PM, to pick up the flowers and enjoy light refreshments.
In Hampton Roads, home of PCSMoves.com, today, participating Domino's restaurants will give discounted pizzas to the wives and husbands of our brave military personnel. Domino's announced they will offer $3.99 medium pepperoni pizzas for carryout orders, from 11 AM-2 PM. A list of participating locations can be found here.
On Wednesday, May 17, Kingsmill Resort in Williamsburg will host the Dove 4th Annual Real Beauty "Women of the Military" Luncheon, giving local women the chance to meet and mingle with other military women. This year's luncheon will feature Army veteran and small business owner, Tricia Driscoll. Driscoll's business is Knotty Origami, a jewelry and décor line, centered on cultural knotting and folding arts.
Is there a military spouse to whom you show appreciation? Share with us in the comments! Thinking about looking for a new home because of a PCS move? Start your search with us!