Beat the New Kid Blues: MilKids on the Move
Posted by Gary Lundholm on Wednesday, August 31, 2016 at 3:14 PM
By Gary Lundholm / August 31, 2016
Comment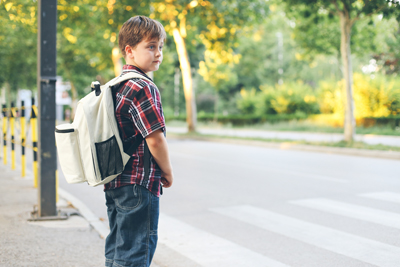 School is starting up all across the country, and for many military kids that means being the new kid . . . again. Here are the top three ways we have found to make the transition easier and a couple of wonderful (and free!) resources to help kids thrive in their new school.
1. Patience: Spread it on a little thicker during these transition times. As a parent, and an adult, it's easy to minimize how kids feel or to send the message that what they're going through doesn't matter as much as the serious "adulting" you have to do on a daily basis. So make sure to build a reserve of patience and hear your kids out, be a little more kind, and offer a little more compassion about the way they feel.
2. Perspective: You've lived longer than your young scholar, and one way to help deal with the emotions that come with relocating and being the new kid is to use perspective. Your sense of time and how to deal with new issues is stretched over the years that you have had to experience and overcome situations. Kids can feel overwhelmed because their sense of perspective is as young as they are. Help them develop it and you're giving your kid an awesome tool to help them out for the rest of their lives.
3. Choose Your Own Adventure: If you grew up in the 70's or 80's you probably had a wire rack full of these paperback books in your school library. In them, you were given choices and the choices you made directly impacted the storyline that your character would follow. Life is a lot like that, and sometimes the feeling that you are able to make decisions can be really empowering for kids facing a transition. Don't sweat it if they want to wear the most colorful socks they own with their shorts; that small decision could make them feel good which in turn could help them meet new friends. If they have a bad day, the "Choose Your Own Adventure" pep talk can help them decide how to react, and help them remember that each new day is a fresh start.
Practicing patience, helping kids develop a sense of perspective, and treating life like a "Choose Your Own Adventure" novel can all help banish the new kid blues and make the transition in a new school easier as they are getting started. But being in the right place emotionally isn't the only challenge kids can face. Here are two resources we think every military family needs to bookmark!
Military Child Education Coalition: Programs, resources, scholarship info and more all dedicated to MilKids. A great resource for parents, students, and education professionals alike.
Tutor.com: free tutoring resources across all subjects for MilKids. Available at any time and great for helping kids stay afloat through curriculum changes.
Do you have any advice or resources for military kids or families as they start a new school year? Let us know in the comments below!