7 Tips for a Better PCS in 2017
Posted by Gary Lundholm on Wednesday, January 18, 2017 at 2:48 PM
By Gary Lundholm / January 18, 2017
Comment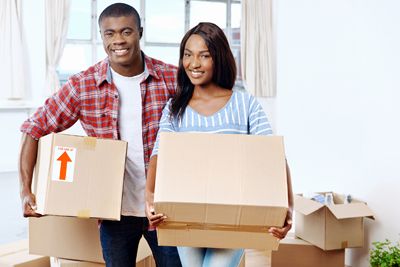 We know you have a Pinterest board chock full of ideas for making a PCS experience go smoother, but this is our real-talk guide to a better PCS in 2017. Start here and make your next move your best one yet.
1. Start with less.
Moving is hard work. Stop making it harder than it needs to be! Lighten your load! Use yard sale-ing season to clear out and have less stuff to take with you. Toys, old furniture, big items that you have replaced can all earn you some extra money and cut weight for your next move. Or if the idea of tackling all your stuff is just too much, simply place a box somewhere in your house and fill it with things you can donate weekly or give to friends who can use it. The possibilities are endless, but cutting down on stuff will lighten not just the weight of your household goods, but your cleaning load as well.
2. Rethink the idea that bigger is better.
It's inevitable that you will need and want to purchase things for your home as the years go by, but while you are at a place in life where you are going to be actively PCSing, consider going the smaller route for big-ticket items like furniture. We've all been inspired by the decorating magazines with huge wrap around couches in giant living rooms, but the truth of the matter is, your next home might not have a giant living room. Opt for smaller furniture that you can arrange to make a big impact, and you can still enjoy beautiful new things without worrying about the next place you're headed.
3. Get organized before it matters.
If you've had every intention of getting your important paperwork together in one place, do it now. Spouse, kids, animals, and houses all tend to come with relevant paperwork. Save yourself the headache of trying to scramble to get it together and take a little time each week to sort, shred, and put away the crucial paperwork.
4. Move in the best way for your family.
Some people love using the movers, others swear by DITY moves. No one is wrong, but you have to consider what is best for your own family. If the idea of driving a moving van and a car full of kids and animals seems like your idea of a nightmare, let the military handle it. If you have a strong DIY streak, get packing! There is no right or wrong way to move, but do what will make the most sense for you.
5. Lean on friends.
As a member of the US military family, you are lucky enough to have the opportunity to make friends all over the world. When it comes time to load things up, whether by movers or your own two hands, don't be afraid to ask your friends for help. Help doesn't have to mean heavy lifting, but even taking your kids while the movers are at your house, or letting your dog run around their backyard while you have every door open for loading up the moving van can be a huge help. Don't be afraid to ask for help and always pay it forward when someone asks you!
6. Take care of yourself.
Moving is stressful, whether it is just down the street or across the country. There are so many things to think about, plan, organize, and do. You need to be in the best possible mindset to handle the onslaught, so make sure you take the time to take care of yourself. Sleeping well, eating healthy food, and staying active are all essential to your wellbeing, and while it's easier to live off fast-food, there is a store with a salad bar that is just as quick. Keep your energy up and your stress level down, and you'll be just fine.
7. Just breathe.
Whether this is your first move or your last, there are things beyond your control. These annoyances will always pop up when you least need them to. Don't let surprises sideline you. Take a moment to collect yourself and then find the way through the the problem while you keep moving forward. Our military men and women are warriors, but they get much of their strength from a solid, strong support system and family. That's you! And don't worry, it always gets better.