4 Simple Vacation Ideas That Won't Stress You Out
Posted by Gary Lundholm on Monday, August 10, 2015 at 10:23 AM
By Gary Lundholm / August 10, 2015
Comment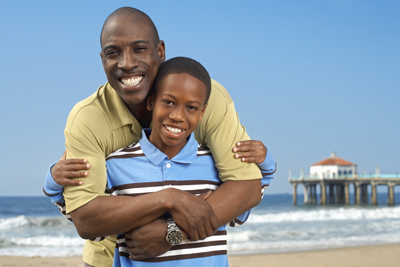 When I was a kid, my parents were determined that my sisters and I would see all 48 contiguous states. So every summer, they'd pack us in the Aerostar with enough provisions that would make anyone on the Oregon Trail jealous and head off to road trip through another section of the United States.
When I look back on it, I have no idea how my parents did it—the three of us sometimes bickering, sometimes singing more than 100 verses of I'm Hen-er-y the Eighth, I Am, sometimes hanging out the window mooing at the cows we drove by.
We looked forward to those vacations every year…but I have no clue how my parents held it together and felt like they had some semblance of a break from the every day. I mean, that's the whole point of a vacation, right?
How did no one get left somewhere in the middle of South Dakota after "A little bit louder and a little bit worse" turned into an all-out scream fest? How did they unpack and repack the van every morning and night, when the world's best Tetris player probably couldn't do it?
I don't know how they did it, but I'm glad they did. We made it to 47 of the 48–sorry, North Dakota—and I'll forever cherish both the memories we made along the way and the appreciation for our country I cultivated. (And an appreciation for my folks. They are both brilliant and insane for schlepping us all over the country every summer.)
But sometimes you can't always plan a road trip or a vacation. Sometimes, to have a vacation at all, you've got to do it now. Sometimes, with everything else going on, you just can't put one more thing on your plate.
Here are a few simple vacation ideas that will keep your stress levels low:
1. Plunk down in one place.
It's so much easier if you have to plan for just one locale—whether that's a beach house, one city, a resort or a cabin somewhere remote. Choose somewhere that offers what your family is looking for in a vacation and then move in and relax for the rest of your vacation.
2. Use military services.
Not only will you save money, but you'll make life a little bit easier when you use military services in the area. Don't feel like fighting the crowds at the beach or lake? Many bases have their own recreational areas that rival (or honestly, are nicer and cleaner) than public ones.
3. Stay put.
Not ready to venture somewhere else? Create a staycation of your own and enjoy what your area has to offer. As military families with crazy schedules and only a short amount of time in one area, we often don't get to really know our area well. A staycation is a perfect way to uncover the gems right under your nose.
4. Keep it in-house.
Go for the all-inclusive package at a resort. Perfect examples? Great Wolf Lodge, the Disney theme parks and Sandals. All offer all-inclusive packages… and military discounts. Really.
To read the full article, including even more low stress vacation tips, please click HERE.